Was Is: The Oceania Duet, Book 2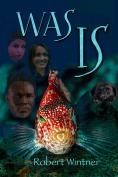 Published by Twice-Baked Books
Was Is picks up downstream from Reefdog. Unable to accept, adapt or move on, Ravi is stuck.
The wife and daughter commiserate but leave for LA, for showbiz.
The son advises wisely and foolishly, on his way back to the yacht-racing circuit.
Ravi rides his scooter rain or shine around Moorea, until breaking orbit to fly, back to Hawaii. He seeks meaning in a protest against a pet-chain selling reef wildlife, and he feels better, tired and sweaty. Cruising home, chilling down, swilling beer and smoking lolo, he buffers the world, closing in, but gives in to an unknown caller on sporting whim. The path stumbles onto subterranean revelations in a play for money and power.
What happens when a soothing voice from Nigeria asks, "How are you today?"
Was Is
weaves kindred spirits and random demons. With insight on politics in the Land of Aloha, Ravi finds the way to where stupid makes sense and corruption feels normal, given the players and alternatives.
Resolution comes in layers, on the way to what may be.
314 pages | April 15, 2022